Welcome to Bremen and Bremerhaven!
On this page we collect important information for Ukrainians in Bremen / Bremerhaven. This page is regularly updated and translated into Ukrainian.
If you know of any important information, initiatives or contact points, please let us know so that we can add them!
You can send these information directly to info@welcometobremen.de.
Thank you very much for your support!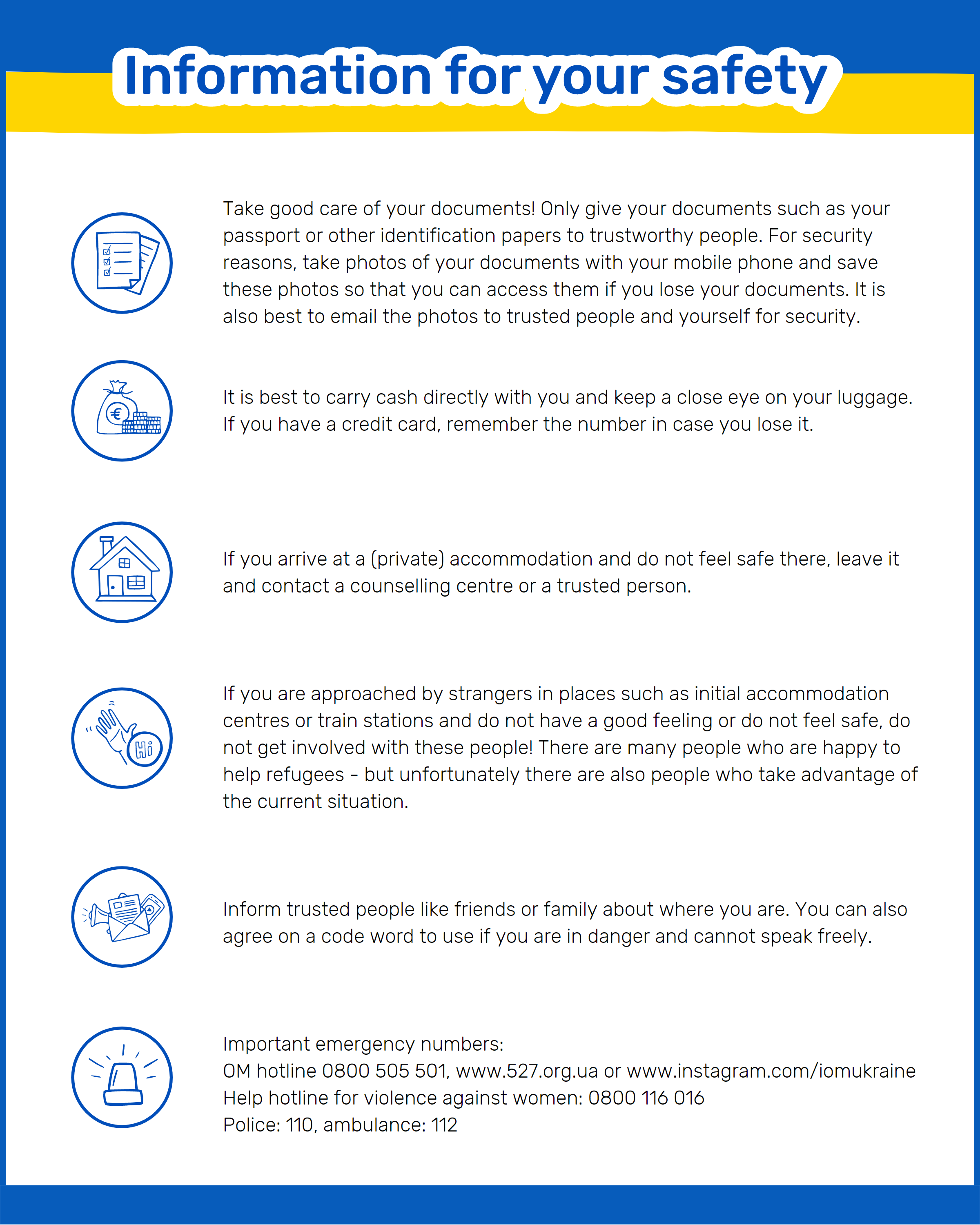 

I don't have a place to stay. Where can I go?

Bremen:

You can go to the Initial Reception Centre.

Lindenstraße 110
28755 Bremen
+49 421 361 40490
[email protected]

At the Initial Reception Centre you will be given a room, a bed and food. There are also people to support you in arriving and settling in Bremen.

 

Bremerhaven:

When you arrive in Bremerhaven, you can go to the Integration Centre:

Integrationszentrum Bremerhaven
Wiener Straße 12
27568 Bremerhaven
[email protected]

At the Integration Centre you will be given a room and a bed. There are also people to help you arrive and support you with the authorities.



Can I stay with my family /friends /acquaintances in Bremen or Bremerhaven?

Yes, you may also live privately with other people in Bremen / Bremerhaven and do not have to go to an initial reception centre.

After your visa-free stay, you must report your place of residence to the competent foreigners authority until 31.08.2022.



Do I have to apply for asylum in order to stay in Bremen / Bremerhaven?

No, when you first arrive, you do not have to apply for asylum.

You can go to an information centre for advice before you apply for asylum.

For more information on the right of residence in Germany, visit www.bmi.bund.de.



How long can I stay in Bremen / Bremerhaven?

As stated so far, you may stay in Germany until the war in Ukraine is over.

For the first time you do not need a visa (visa-free stay).

Until 31.08.2022, you must apply for a visa at the Migration Office ("Migrationsamt") or the Foreigners' Registration Office ("Ausländerbehörde"):

Migration Office Bremen ("Migrationsamt")
+49 421 36188630
[email protected]

Bürger- und Ordnungsamt/Department for Migration (Bremerhaven) ("Ausländerbehörde")
+49 471 5903799
[email protected]

If you did not enter Germany with a "biometric passport" or if you don't have the Ukrainian citizenship you need a visa immediately. You should then go directly to the Migration Office / Foreigners' Registration Office. In general, people without Ukrainian citizenship are also allowed to stay in Bremen and Bremerhaven. In this case, however, you must report directly to the competent foreigners authority.

If you have any questions about the right of residence in Bremen, the Migration Advice Service ("Where can I get advice?") or the Welcome Service will be happy to help.

For more information on the right of residence in Germany, visit www.bmi.bund.de.



I fled with my pet - who can I contact if I have any questions?

If you need support with your pet, you can contact the Bremer Tiertafel:

Bremer Tiertafel
[email protected]
+49 1773335568

The Bremer Tiertafel can help you with food and pet supplies such as leashes and transport boxes. In addition, the Tiertafel will help you find a vet and may also help you with the costs.



Am I allowed to work in Bremen / Bremerhaven?

Refugees from Ukraine are allowed to work in Germany. Before you are allowed to work, however, you need a permit from the Foreigners' Registration Office.

Migration Office Bremen
+49 421 36188630
[email protected]

Bürger- und Ordnungsamt/Abteilung für Migration und Einbürgerung (Bremerhaven)
+49 471 5903799
[email protected]

 

Further information:

Service hotline for initial information on finding work and training: 0911 1787915 (Mon.-Thu. 8.00- 16.00 and Fri. 8.00-13.00).
Free counselling appointments for the recognition of your qualification:
In Bremen: 0421 36301954
In Bremerhaven: 0471 9839954



Can I get financial support?

Since 01.06.2022, refugees from Ukraine can apply for money ("basic security benefits") from the Job Centre. In order to be able to apply for money, you must first register with the foreigners authority (Bremen / Bremerhaven).

The Job Centre will pay the costs you need to live ("securing your livelihood") and arrange language courses, further qualifications and jobs.

If you have already received money from the Office for Social Services / Social Welfare Office before 01.06.2022, the office will contact you for an appointment.

Further information is available on the Job Centre's website.

If you have any further questions, the Office for Social Services / Social Welfare Office will help you:

Bremen Social Services Office ("Amt für soziale Dienste Bremen")
+49421 36178951
[email protected]

You can find the addresses of the offices here.

Social Services Bremerhaven ("Sozialamt Bremerhaven")
Wiener Str. 12
27568 Bremerhave
[email protected]

Take your Ukrainian passport with you when you apply for financial support!

If the financial benefits need to be extended, you will need a residence permit.



Can my children go to school in Bremen / Bremerhaven?

If you have school-age children, they can go to school in Bremen / Bremerhaven.

Registration for schools in Bremen at: [email protected]

Registration for schools in Bremerhaven at:
[email protected]
+49 471 5902962

If your child does not speak German yet, you can register him/her for "preparatory classes"(Bremen) or "welcome classes"(Bremerhaven) at school. There your child can gain first language skills and get to know the school in Bremen / Bremerhaven.

If your child has already graduated from school or was in vocational training in Ukraine, he/she can attend a vocational school.



Can I travel free of charge by bus and train in Bremen / Bremerhaven?

Yes, as a refugee from Ukraine you can travel free of charge on all buses and trams in Bremen and Bremerhaven.

All you need is one of the following documents:

Ukrainian passport
Other Ukrainian identity document
0- Euro ticket

You can also travel free of charge on VBN (Verkehrsbund Niedersachen) vehicles.



I need medical / therapeutic care. Where can I go?

Initial reception ("Erstaufnahme") in Bremen:

At the initial reception in Bremen you can visit the medical consultation hours of the public health department.

You can also visit the vaccination centre for medical help:

Impfzentrum am Brill
Am Brill 1-3
28195 Bremen

 

Medical practices in Bremen and Bremerhaven

On the KVHB page you can find doctors and therapists who have offered their help to people from Ukraine.

At some doctor's offices, Russian or Ukrainian is spoken.

If you do not stay at a reception centre, you can get a temporary emergency health certificate at the social centre. With this certificate, you can go to any doctor, as long as capacities are free. The costs are covered by the state of Bremen.



I have a disability - where can I get advice?

In Bremen and Bremerhaven there are various counseling centers for people with disabilities.

Bremen:

Bremerhaven:

You can also find more information in the disability section on Welcome to Bremen and Welcome to Bremerhaven.



What additional information is there for me as a woman / girl?

There are various offers for women and girls in Bremen and Bremerhaven. On welcometobremen.de and welcometobremerhaven.de you will find many of them.

 

Pregnancy and Birth

If you are pregnant, you can apply for assistance from the Federal Foundation Mother and Child. If you have questions about pregnancy and birth, you can go to a counseling service in Bremen or Bremerhaven.

 

Help in case of violence

If you have been affected by violence, you can always contact the Hilfetelefon.

There are many counselling centres in Bremen and Bremerhaven that can help you. In the first period after your arrival, you can turn to the migration advice centres ("Migrationsberatung") in Bremen and Bremerhaven with all your questions:

Bremen:

Bremerhaven:

You can find an overview of other counselling centres on our pages www.welcometobremen.de and www.welcometobremerhaven.de.



What do I need to know about the Covid-19 Situation in Germany?

When you arrive in Bremen or Bremerhaven at the Initial Reception Centre, you must first take a Corona test.

If you have Corona, there are quarantine places at the Reception Centre.

You can find a lot more information at https://www.bremen.de/corona or www.bremerhaven.de

If you have not yet been vaccinated against Corona and would like to be vaccinated, you can do so in Bremen and Bremerhaven. There are various vaccination centres where you can get vaccinated (even without registration). If you have a vaccination certificate, you should bring it with you.

You can find the vaccination centres here:

https://www.gesundheit.bremen.de/corona/impfen-38848.



Which other offers do exist?

There are many offers in Bremen and Bremerhaven that are open to new people from Ukraine. You can find many of them on Welcome to Bremen and Welcome to Bremerhaven

German courses:

The Language Coordination Office can advise you on German courses in Bremen and Bremerhaven.

There are also many language cafés where you can improve your German.

The Goethe-Institut offers online German classes for beginners  (A1-A2). The courses are for adults, teenagers and children.

There is a free ebook to learn German:  buchstaben.com

Offers in Bremen's districts:

In some districts of Bremen there are "Ankommen im Quartier / Unterstützung im Quartier"counselling centres. You can go there if you want to know what offers are available in the district.

Free time:
There are many facilities that also offer free activities for refugees. It is best to ask the provider directly.

In Bremen's public libraries, all refugees receive a free library card. With the card, you can borrow material in different languages for you and your children. Small groups can also book free introductions to get to know the place and everything it offers in an uncomplicated way.
At the Tanzarena Bremen, refugee children can take part in the programme free of charge.

You can find more offers on Welcome to Bremen and Welcome to Bremerhaven.

 

Further Support / Digital offers

(Digital) offers for children



For people, who would like to help

There are many ways to help.

Offer housing

Donations & Support

Others

German telephone counselling:
+49 800 111 0 111
+49 800 111 0 222
116 123
Help-line Mutruf: 04191 2749280